Advocacy & Intervention

Advocacy
Rural advocates working in a dual program setting can find podcasts, webinar recordings, and educational tools to support the growth of innovative services for rural sexual assault survivors.
ReShape: The Newsletter of the Resource Sharing Project, Issue #21, (2007)
This issue of the ReShape newsletter focuses on rural advocacy for victims/survivors of sexual violence, outreach strategies and rural program sustainability.
Law Enforcement
Law Enforcement as Community Mentors to Youth by National Sexual Violence Resource Center (2012)
John Haynes is Chief Investigator of the City of Durant Police Department in Durant, Mississippi. This video podcast highlights Investigator Haynes as a community partner of the Community Student Learning Center in Lexington, Mississippi and discusses his experiences as a community mentor and how it has informed his work as a police officer.
Prosecution
Beyond Conviction Rates: Measuring Success in Sexual Assault Prosecutions by Aequitas (2014)
This issue of the Strategies Prosecutors Newsletter on Violence Against Women discusses promising sexual assault prosecution strategies as well as measuring effectiveness in a way that does not rely solely upon conviction rates.
Putting the Pieces Together: Prosecuting Perpetrators of Incest While Supporting Child Victims and Families by the National Sexual Violence Resource Center (2013)
This webinar recording discusses techniques for prosecuting cases of incest while identifying and responding to the unique needs of child victims and families. It addresses the misperceptions about the dynamics of incest to help promote better response by victim service providers and other members of the system.
Walking A Tightrope: Balancing Victim Privacy and Offender Accountability in Domestic Violence and Sexual Assault Prosecutions by Aequitas (2013)
This newsletter discusses the need for finding a balance between victim privacy and offender accountability in cases. Part 1 offers an overview of confidentiality and privilege laws while Part 2 discusses protecting privileges and the victims who assert them.
Strategies for Prosecuting Sexual Assault Cases by National Sexual Violence Resource Center (2012)
This video podcast is an interview with Mr. Thomas Nolan, Special Projects Staff Attorney with the Minnesota Coalition Against Sexual Assault in St. Paul, Minnesota. Here, he discusses his strategies for the prosecution of sexual assault cases, focusing on the theme and the story of the case.
10 Strategies for Prosecuting Child Abuse at the Hand of a Family Member by Aequitas (2011)
This issue of the Strategies Prosecutors Newsletter on Violence Against Women offers ten strategies to help prosecutors prepare and litigate cases of sexual abuse perpetrated against a child by a family member.
Rural Victim Assistance: A Victim/Witness Guide for Rural Prosecutors by the U.S. Office for Victims of Crime (2002)
This guide is designed to help prosecutors, victim advocates, and policymakers understand victim/witness assistance in rural communities; including staffing limitations, the roles and responsibilities of advocates, and the challenges that rural prosecutors face in providing assistance to crime victims along with tips and strategies for overcoming these challenges.
Collaboration
Sexual Assault Response Team (SART) Implementation and Collaborative Process: What works best for the criminal justice system? by Rebecca Campbell, Ph.D., Megan Greeson, Ph.D., Deborah Bybee, Ph.D., Jennifer Watling Neal, Ph.D. (2013)
This study examined the structure and functioning of U.S. SARTs, patterns of SART implementation and how these patterns relate to SARTs perceived effectiveness at improving victim and legal outcomes.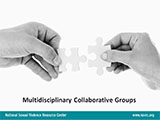 Rural SARTs: What the Research Tells Us by National Sexual Violence Resource Center (2014)
Megan Greeson, Assistant Professor of Psychology at DePaul University, presents preliminary findings on a research project about Sexual Assault Response Teams (SARTs) in rural communities.
The Vision 21: Transforming Victim Services Final Report by OVC (2013)
The report gave participants the opportunity to engage with a broad spectrum of service providers, advocates, criminal justice professionals, allied practitioners, and policymakers to address crime victim issues through a lens broader than their everyday work. As a result of this collective examination, the report seeks to permanently transform the way crime victims are treated in this country. The report also outlines recommendations for beginning the transformative change.
Rural Partnership Guide: Building Partnerships Between Rural Service Providers and Faith Communities to Support Domestic and Sexual Violence Victims and Survivors by Safe Havens Interfaith Partnership Against Domestic Violence (2013.
Collaboration with local domestic and sexual violence service providers can help to ensure that the responses of faith leaders to victims of sexual and domestic violence are safe, empowering, and consistent with other community-based services. This guide is intended to explore this collaboration, barriers and challenges, and how advocates and faith leaders can build and strengthen trusting partnerships.
SART Toolkit: Serving Rural Victims by National Sexual Violence Resource Center and OVC (2011)
A Sexual Assault Response Team (SART) is a multidisciplinary interagency team of individuals working collaboratively to provide services for the community by offering specialized sexual assault intervention services. In this section, explore how SART can specifically serve rural victims of sexual violence.
Benefits of a Coordinated Community Response to Sexual Violence by Aequitas (2011)
This newsletter addresses the concept of developing a community response team for instances of sexual violence. These efforts include services and systems representatives from medical fields, law enforcement, legal systems, and victim advocacy programs.
Victim Services in Rural Law Enforcement by Office for Victims of Crime (OVC) (2011 update)
Based on the experiences of 17 sites that received OVC funding to establish or enhance victim assistance efforts in their law enforcement agencies, this resource explores creative and economical ways for rural law enforcement agencies to meet the needs of victims at the crime scene and during follow-up contact.